New Kid on the Block at Instagram
Follow us and check out our fun and interesting photos and videos!
@vintage.tradition (with the "." it in)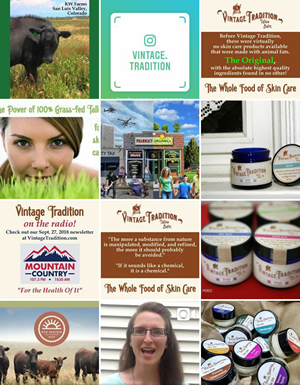 We finally jumped in with two feet on Instagram, and we've made a bunch of posts for you to enjoy! We hope you will head on over there and FOLLOW us and LIKE our photos and videos and TAG your friends in them. We would be extremely grateful for your support!
We have been posting infographics and product pictures as well as photos from the ranches where we obtain 100% grass-fed beef suet for the best skin care on earth! Informative captions are included.
Instagram videos have to be less than one minute long, so the videos are snippets from the full video testimonials found on our YouTube channel. By the way, don't forget that you can receive 25% off your next order of Tallow Balm for doing your own video testimonial!